About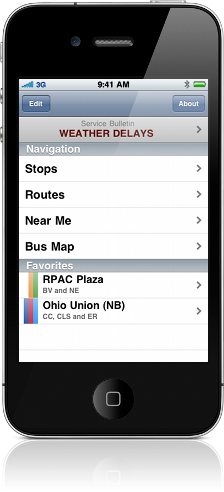 OSU Bus lets you see when the next busses will arrive at your favorite OSU CABS bus stop! It's a native iPhone client for the OSU TRIP website.
Features
Save favorites on the main view for quick access.
Find the bus stop you want by listing them by route, or look at the whole list.
Check out the latest service bulletins in an animated banner at the top.
Find the stops nearest to you with the "Near Me" option.
See where each route goes on the Bus Map
Quicker load times (even over 3G) than the

TRIP

website, with a local cache of routes.
See the screenshots page for examples of what OSU Bus looks like, or get it right now from the App Store, for free!
I'm always looking for ways to improve OSU Bus. If you've found a bug you want fixed, or you have a neat idea for the next version, hop on over to the suggestions page and tell me all about it, or send me an email at griffith.637@osu.edu.
OSU Bus is open source software, and the source is released under the GNU General Public License (version 2). If you're feeling adventurous, you can browse the source at GitHub. I always welcome patches!
Copyright © 2010 Aaron Griffith
With the exception of the App Store button and iPhone image, this work is licensed under a
Creative Commons Attribution Non-Commercial Share-Alike 3.0 Unported License
.
Apple, the Apple logo, and iPhone are trademarks of Apple Inc., registered in the U.S. and other countries. App Store is a service mark of Apple Inc.
OSU Bus is not an official product of The Ohio State University; it is student-created.